PUBLISHED AUG 11, 2023 5:29 PM BY THE MARITIME EXECUTIVE
The shipping community is joining in to provide relief and support after the devastating fires swept parts of the island of Maui this week. Even before the fires have been fully extinguished, the industry is swinging into action to join in the relief efforts.
President Joe Biden signed a major disaster declaration for the island in Hawaii on Thursday, releasing more federal resources including the Federal Emergency Management Agency. Locally, the Hawaii Public Utilities Commission also issued a temporary order to expedite the movement of disaster response and emergency cargo, including granting Matson temporary rights to move more goods directly between Honolulu and Maui.
All of this comes as the fires are now reported to be 80 percent contained in hard-hit areas including Lahaina. Officials are setting the death toll at 55 but expect as they can get into the area and check the destroyed homes and buildings that the count could rise further. More than 1,000 structures are reported destroyed on the island with firefighters still battling flair-ups and pockets of fire.
The commercial harbor of Kahului on the north central shore of Maui remains open and functioning normally. It is across the island from the hard-hit Lahaina area. It remains the primary port for getting supplies into the island.
In the first hours of the disaster, the U.S. Coast Guard played a critical role in the relief efforts and continues with its support. As of the end of day Thursday, the USCG reports a total of 17 lives were saved from the water and 40 survivors were located ashore by Coast Guard Station Maui boat crews. The Coast Guard had no reports of missing persons in the water but was continuing air and surface search and rescue operations. Search efforts they reported spanned over 15 hours covering more than 450 square nautical miles. A safety zone was established three nautical miles North and South of Lahaina and extending one nautical mile offshore. As of Friday evening, the Coast Guard intends to transition to other missions later this evening, unless additional information warrants continuing searches.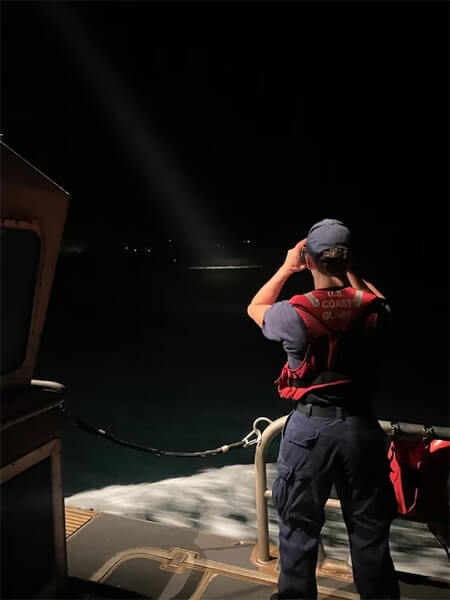 Search and rescue efforts led by the US Coast Guard (USCG photo)
Matson, one of the largest shippers, reports it is working closely with federal, state, and county emergency response agencies to prioritize the movement of emergency equipment and relief supplies. Matson normally operates twice-weekly service to Maui and reports they have already chartered an additional barge and have it on standby. They are considering additional sailing to Maui as needed and requested by the local authorities.
One barge, the Haleakala departed Honolulu on August 10 and was due today in Kahului. Matson reports it is loaded with 160 containers of supplies. Service will continue to arrive on Tuesdays and Fridays at Maui and the company added a barge due to arrive on Sunday, August 20.
Young Brothers, which operates interisland freight handling and transportation with eight barges, also reports that it is prioritizing the loading and discharging of medical supplies and emergency and utility vehicles on its barges to Kahului. The shipment to Maui on Thursday included 20 containers for FEMA, including four containers of bottled water and 16 containers of ready-to-eat meals. Additional containers including donations that are coming from the business community and Hawaii's leading companies are being readied for shipment.
Pasha Hawaii reports it has enacted its Emergency Response Plan, which includes prioritizing emergency rations, foodstuffs, and medical supplies with its available barge capacity to Maui and its direct vessel roll-on/roll-off service. Pasha Hawaii operates two fixed-day direct vessel calls per week from the U.S. West Coast to Hawaii, with twice-weekly connections into Maui for the container business, and direct mainline vessel calls into the port of Kahului. Pasha announced a $25,000 donation and reports it is working with government agencies, customers, and partners for the shipment of relief supplies in addition to coordinating shipments with nonprofit organizations to Maui.
Relief packages being loaded (Hawaiian Airlines)
Over 30,000 residents and tourists have been evacuated from Hawaii, with Hawaiian Airlines reporting it transported over 5,700 people on flights on August 9 alone. Yesterday, the airline added nine additional flights and dropped the prices for all its seats to just $19 through August 14. The airline's cargo operation is also moving critical supplies.
Lahaina, which is devastated, had been a popular tourist destination and a frequent cruise port. Norwegian Cruise Line, which has the only cruise ship operating year-round in Hawaii, announced it was making a $50,000 donation and of course suspended port calls in Kahului. Princess Cruises also was due to call in Maui on August 14 and announced it would divert the Emerald Princess to Kona instead of Maui.
Reference: https://www.maritime-executive.com/article/shipping-industry-joins-relief-efforts-for-maui-delivering-relief-supplies